A personal protective equipment (PPE) delivery from Turkey to the UK has been delayed, the government has said.
Equipment including 400,000 gowns had been expected to arrive on Sunday, after warnings hospitals could run out.
The education secretary said the government was hoping to speak to UK companies offering to make protective kit within "the next 24 hours".
Gavin Williamson added the government was doing "immense work" to find British suppliers.
BBC Health editor Hugh Pym asked Mr Williamson why stocks had been allowed to run down over the last couple of years, and why more was not done to boost them in March and February.
Speaking at the daily Downing Street coronavirus briefing, the education secretary said "every resource of government" had been deployed to expanding supplies of PPE and ventilators.
Deputy chief medical officer Dr Jenny Harries, meanwhile, said the UK remained an "international exemplar" of pandemic preparedness, adding there had been challenges but the government was "always looking ahead".
A government spokesman confirmed the delay on Sunday, saying they were working "to ensure the shipment is delivered as soon as possible", while a source told the BBC they hoped it would arrive in the coming days.
The pledge to take delivery of more protective kit came after warnings that some hospitals' intensive care units could run out of gowns this weekend.
Dr Chaand Nagpaul, chair of the British Medical Association, described the delay as "very concerning".
"Healthcare workers desperately need proper and effective protection now – by whatever means possible," he said, adding: "This really is a matter of life and death."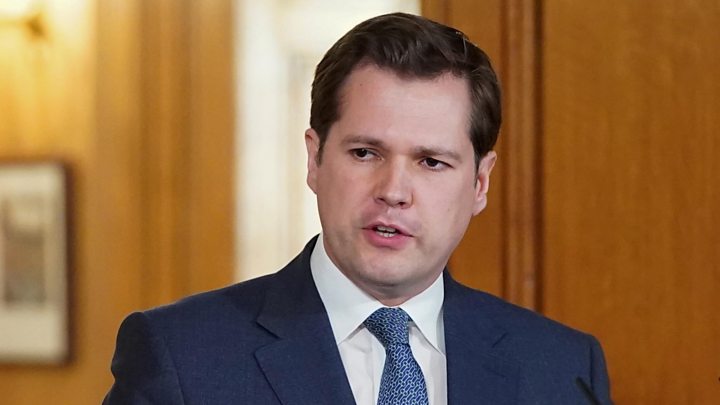 Public Health England changed its advice on Friday to allow the NHS to re-use gowns if stock was running low, saying "some compromise" was needed "in times of extreme shortages".
It asked staff to reuse "(washable) surgical gowns or coveralls or similar suitable clothing (for example, long-sleeved laboratory coat, long-sleeved patient gown or industrial coverall) with a disposable plastic apron for AGPs (aerosol-generating procedures) and high-risk settings with forearm washing once gown or coverall is removed".
The guidance also said hospitals could reserve the gowns for surgical operations and procedures which were likely to transmit respiratory pathogens.
NHS England's medical director Prof Stephen Powis said for the guidance on the use of protective equipment to be properly followed, it was "absolutely critical above everything else that we have the supplies of PPE going out to the front line".
But the Royal College of Nursing said the guidance was developed without a full consultation and the British Medical Association (BMA) – which represents doctors – said any change must be driven by science, not availability.
The delay to the consignment is a real worry, both in the short and long-term.
It is clear the pandemic stocks we have been largely relying on to date are running out, at least in terms of gowns and visors.
It has left us depending on international supply – certainly for gowns – as we do not seem to be able to manufacture them ourselves.
Given the international demand for them, this threatens to be an on-going issue that could cause problems for months to come.
Staff are understandably worried – they are putting their lives at risk.
Ministers and their officials are clearly working hard to do what they can.
But in the future, serious questions will need to be asked about why this situation has arisen in the first place.
Cabinet Office Minister Michael Gove said the UK had built up stocks of PPE in expectation of a flu pandemic – as well as to prepare for the possibility of a no-deal Brexit – but he said there was a "worldwide pressure" on supplies.
However, he told the BBC's Andrew Marr the extra resources would be coming from Turkey "this weekend", along with another 25 million gowns, that were coming from China.
Labour's shadow health secretary, Jon Ashworth, said "serious mistakes have been made" by the government in tackling the outbreak.
He told Sky News: "We know that our front-line NHS staff don't have the PPE, that they've been told this weekend that they won't necessarily have the gowns which are vital to keep them safe."
The government has appointed Lord Deighton, who headed the organising committee of the London Olympics, to resolve problems with supplies and distribution of PPE.